Who is it for?
In our opinion, Product Hunt is an excellent platform for companies whose products are in the early stages of development. Ideally, products in their Beta stage, coming out of Beta, and the first Alpha versions are great for PH and a great platform to get the initial feedback.

The platform is also a great place to acquire the first customers for your product. It helps reach out to interested individuals based on their preferences and enables you to build a community. Further, the reviews and awarded ranks can be repurposed and pinned to your website. This may even help your product get investors.
Our Product Hunt launch
In March of 2022, we decided to launch a second Product Hunt campaign – Neverinstall 2.0
The campaign was a great success and resulted in us reaching:


And 797 upvotes.
We had already launched our product once on Product Hunt last year; however, at the time, the product was in its nascent stage. Our previous PH campaign taught us a lot and got us much-needed feedback to improve the platform.
During our last campaign, we reached
Product of the Day #5; and got
695 upvotes
What we did right
Our first PH launch was a great learning experience and gave us valuable insights that we incorporated into Neverinstall 2.0. During the second launch, we were able to achieve:
Product of the Day #3
Product of the Week #5
While we attribute the success of our launch to the team at Neverinstall and our community, several factors helped us get upvotes and positive reviews. Here are some of the factors that made it a success:
Awareness
We planned for our campaign and developed a marketing strategy that helped us spread the word about the launch. Before the launch, we had already sent out emails to our user base, informing them of the launch. Along with this, we collaborated with several micro-influencers, who helped us spread the word on Twitter.
Further, we ensured that engagement was continuous throughout the launch, and therefore, we relied on several content marketing channels to promote it. For example, we dropped an update on our Discord community about the campaign and a post on our subreddit. We had faith in our community to get us to the top and were rewarded for it.
More traditional approaches included posts on LinkedIn from our founders' accounts to reach out to the connections and networks. We also utilized more mainstream channels such as Instagram to build awareness about the launch.
While focusing extensively on organic channels to draw attention to our Product Hunt launch, we also leveraged performance marketing to build awareness. For example, we ran ads on Reddit, where we saw massive success. We received more than 700 impressions for every dollar we spent at a CPC of $0.61.
Product Category
When we launched our campaign, we ensured that we published it in the correct category. Since Product Hunt notifies users about new products based on their preferred categories, selecting the right category helped us introduce our product to the right audiences.
After carefully considering and understanding our user base, we decided that the correct category for us would be Productivity. We decided Productivity was our core category because our product was focused on improving performance and accessibility to GUI applications, including Dev Tools, Browsers, and Utility apps. Since we were streaming applications on our platform, we also launched our product in other categories, such as Video Streaming and Streaming Services.
The badge
The Product Hunt badge helped us gain traction from our user base. We placed the PH badge on our platform, and since we had a large daily active user base, we could get users to move to our launch page and cast their votes.
The badge should be added on a page with the most traffic. This will improve the visibility of your launch and help redirect traffic to get more upvotes from your users.
The time of the launch
The time of the launch makes a big difference to the success of a campaign. We made sure that we launched our product as early as possible. This helped us get an entire day of screen time with the audience and more time to promote our campaign across multiple channels.
What is an ideal time to launch?
12:00 AM PST or 12:30 PM IST
What not to do
Intention
The Product Hunt launch must not be treated as a go-to-market strategy. The purpose of the launch should be to build awareness around the product on a fundamental level. Entrepreneurs must use the platform to get lucrative feedback from relevant audiences to help build the product better. The intention of the launch must not be to market the product.
Legitimate upvotes
We learned that PH has an algorithm to detect if users have upvoted the product on the same day they created their account. The PH team generally removes these upvotes after 24 hours, i.e., when the launch day is over, and the results are shown. The algorithm treats these votes as illegal.
Therefore, avoid using fake accounts to cast votes, as this will most likely worsen things.
Spamming
Spamming users and asking for upvotes outrightly is a sure-shot way for a launch to fail. While promoting your PH launch, never ask anyone for upvotes. The goal of promoting your PH launch is to get feedback, and that is what you must ask. Have faith in your product, and let people upvote it suo moto.
Avoid repetitive messaging at all costs. Refrain from spamming channels such as Twitter and Reddit with mass posts or tweets, as it likely makes a case for your launch worse or even gets banned.
How Neverinstall 2.0 was different
Since the last campaign, we had constantly been improving the product, adding new features, and enhancing the user experience. Notably, a few months after our first campaign, we reached 200,000 users, with almost all of our users coming in organically. This is where we understood that our product was impactful and that we needed to deliver on the expectations of our community.
Here is how Neverinstall 2.0 was different.
Changes to the platform
Expansion
Earlier this year, we added new servers in the United Kingdom and made them live. These would enable European users to get improved performance and smoother access to the platform. This helped us expand our footprint and added value to the product.
Subscriptions
We launched our paid plans. We launched two different plans – Standard and  Premium. Each plan upgrades the users' accounts and gives them access to higher compute, memory, and faster build times.
We currently offer 50% off on all our plans for a limited time.
Coming out of Beta
One of the core reasons for us to launch Neverinstall 2.0 was us reaching a complete product. Therefore, as the platform came out of Beta, we decided to showcase it to audiences worldwide and launch a new campaign on Product Hunt.
We are building our Beta community to allow enthusiasts and developers to experience and test Neverinstall before everyone else. Sign up to join a cohort today!
The way forward
Since wrapping up the PH launch, we have constantly worked to improve the product and make it more user-friendly. We have introduced new updates and significant changes to the platform, along with new applications on the platform.
Here are some of the things were have achieved since the launch:
New and improved dock
We improved the icons, usability, and visibility of the dock and its features.
Save sessions
Allowing users to save their sessions and pick up their work from where they left off.
Manual resolution selection
We granted more control to users, allowing them to select an ideal resolution for themselves that would not change dynamically.
New keyboard layouts
We extended support for more than 50 languages to cater to worldwide audiences.
We have incorporated several new features into the platform and you can check out our latest updates here.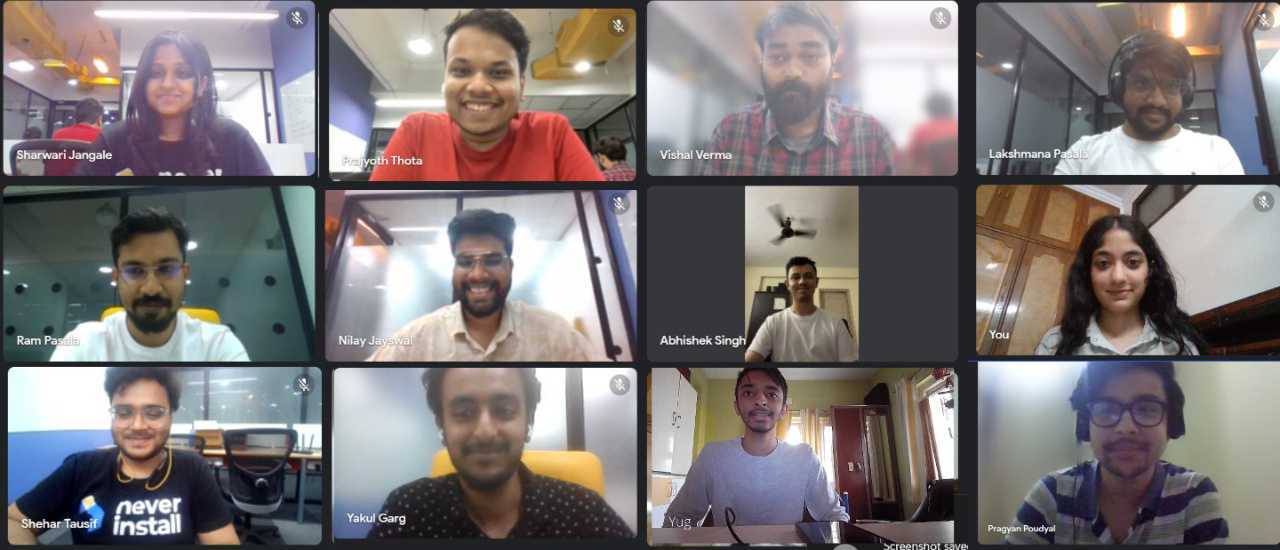 Suggested read - Flutter on VS Code with Neverinstall - A review from Aditya Thakur
Finally, we thank our community, team, friends, and family for their continued support and assistance in helping us reach here. Join us in our journey ahead and experience your first personal cloud computer with Neverinstall. Sign up now!
---
Subscribe
Join the newsletter to get the latest updates.
---
---