While the worst of the pandemic may have passed back in 2022, quite a few effects of this epoch-changing event are clearly here to stay. In the context of global industry and employment, remote work is one such phenomenon.

Our blog, and plenty of others, have spoken at length about the nature and advantages of remote work. Among the tools that emerged to facilitate remote work at scale, one that stands out is Desktop-as-a-Service.

In this piece, I'll list 5 powerful Desktop-as-a-Service solutions that are bound to dominate remote work/entertainment/gaming/browsing markets in 2023.
Top 5 Desktop-as-a-Service Solutions for 2023
Neverinstall
When you sign up for Neverinstall, you get access to a fully-functional, online, Linux-based desktop and use pre-installed, pre-configured tools without spending any installation or setup. All you need is a browser and an active internet connection.

Here's the big advantage: when running Neverinstall's virtual desktops, your local device doesn't expend any resources beyond what is needed to run the browsers. The operational overhead of launching and running the desktop and apps is handled by remote servers in the cloud. Consequently, you get highly accelerated processing, compilation and build times, irrespective of the hardware-software configuration of the device.

You can launch Neverinstall desktops via servers in Europe or USA, piggybacking off the high internet speeds of these regions (irrespective of the quality of your own internet connection).

That's not all. Check out these additional features that come with every Neverinstall desktop:

Collaborate remotely with colleagues on the same virtual desktop in real-time. This is especially useful for collaborative browsing and collaborative coding and code reviews.
Access a range of diverse devtools, design tools, project management tools and more with every virtual workspace. A few examples are VS Code, Android Studio, Neovim, Figma, Slack and more.
Access a high-powered desktop irrespective of your device's local abilities. It doesn't matter if you're using a Chromebook. As long as it can run a single browser and connect to the internet, you can leverage industry-standard devtools with minimal effort, lag or interruption.
Instant access to pre-built, pre-configured applications. No installation required.
Supports multiple  programming languages –  Python, C++, NodeJS, PHP, Flutter, and Go – pre-installed & pre-configured in online workspaces.
Pricing
Multiple pricing plans available.
Free Plan: $0
Premium Plan: $15 per month
Custom plans are also available. Checkout Neverinstall plans.
Suggested read 👇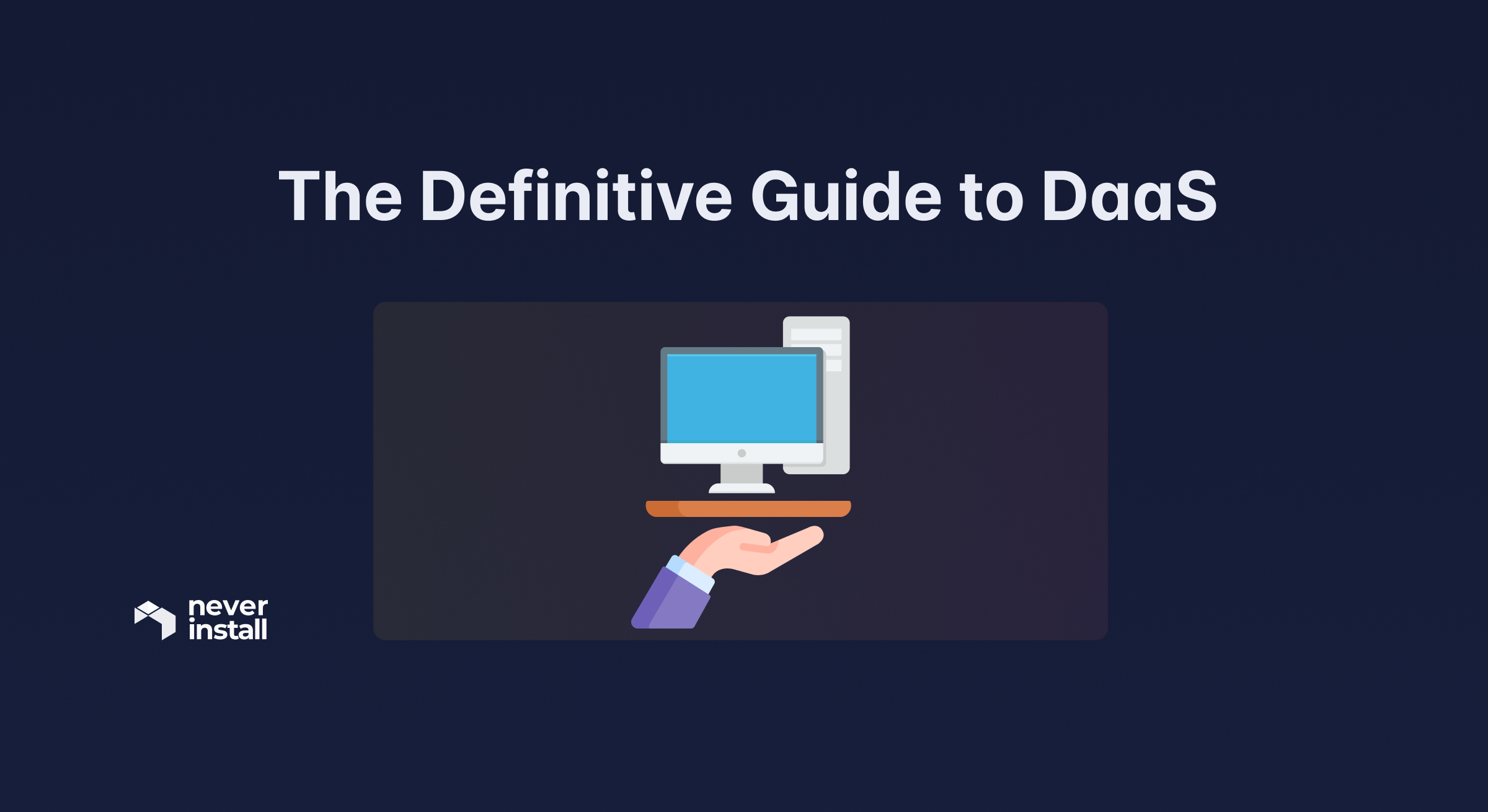 KASM Workspaces
Among its many offerings, KASM provides DaaS solution that allows access to cloud desktop via any web browser. You get a secure, customized work environment in which you stream the entire desktop experience directly to your browser so that your team can work on any device from any location they choose.

Since the entire desktop is available via a browser, you don't need to install any programs on your endpoints.

Primary features of KASM:

Access computing resources from your browser. No endpoint installation is required.
All workspaces are customized with apps, security parameters, and configurations, tailored to your team's specifications.
Scale resource availability and usage as your team expands.
Leverage straightforward pricing with no hidden costs.
Get administrative control to manage uploads and downloads. Enact restrictions on apps and other resources so that malware can be filtered and eliminated before it reaches your data.
Create persistent desktops to reset desktops between user sessions.
Get customized Linux desktops with specific applications, configurations, and brand imagery.
Pricing
Personal Plan: $5/user/month
Teams Plan: $18/user/month
Enterprise Plan: $25/user/month
Suggested read 👇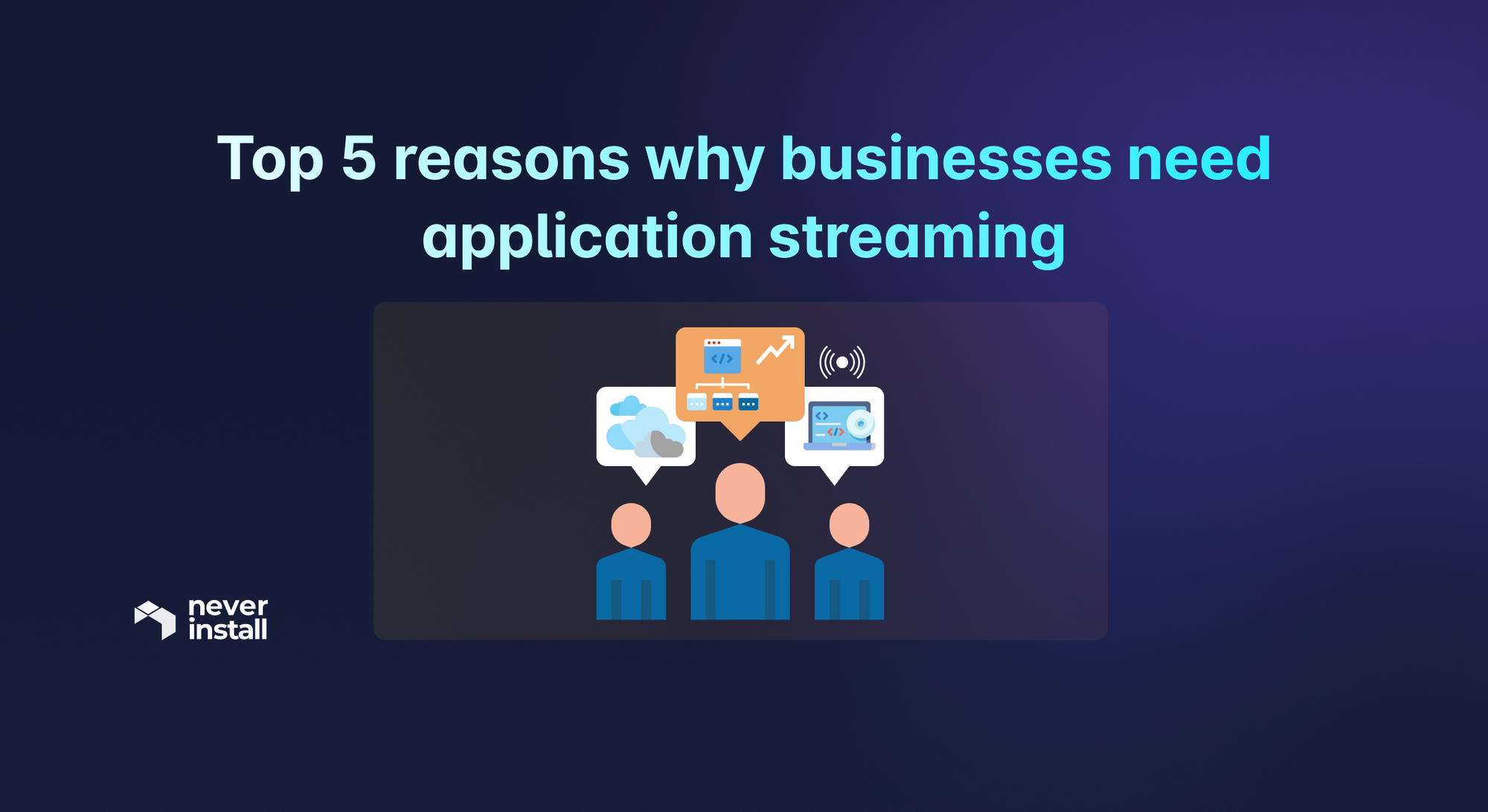 Amazon Workspaces
Offered by Amazon Web Services (AWS), Amazon Workspaces is a DaaS platform that can be used to provision Windows or Linux desktops in minutes. It is a highly scalable solution, suitable for serving teams/organizations of thousands across the globe.

Payments are hourly or monthly. You only pay for the Workspace you actually launch, which makes it a cost-effective solution. You don't have to deal with the workload of  managing hardware inventory, OS versions and patches, and Virtual Desktop Infrastructure (VDI).

All you do is pay for the plan you want, and you (and your team) get a fast, responsive virtual desktop that they can access from any location, at any time as long as they have a supported device.

Prominent features of Amazon Workspaces:

Offers a wide range of CPU-memory-storage configuration that you can alter as required. You don't have to determine the total number of desktops beforehand, or even their configuration beforehand; you can scale up, down and modify specific as you work with the desktops.
Cost-effective since you pay only for the Workspaces you launch and use. You can provision and de-provision workspaces, as required by your workspace.
Once a Workspace is initialized, it can be accessed from any supported device –  Windows and Mac computers, Chromebooks, iPads, Fire tablets, Android tablets and via Chrome or Firefox web browsers. All you have to do is download the client to the required device.
Provides access to cloud desktop in 13 Amazon Web Services Regions. You can supervise and manage thousands of workspaces across the world from a single AWS console.
Securely integrates with your existing company directory, including multi-factor authentication tools. Manage user access control by using IP access control groups. This means you can control access to Workspaces using your existing solutions.
Pricing
Operates on a Pay-as-you-Go model. You pay for the number of Workspaces you actually use.
Citrix DaaS
Citrix offers secure, cloud-based workspaces accessible via any device/physical endpoint. Customers receive a high-performance digital workspace, bundled with requested apps (as the customer requires). You also get higher agility and superior security which translates to greater productivity.

Citrix claims to deliver DaaS solutions from any cloud or data center and manages all the infrastructure while you and your team. You get comprehensive security and a sophisticated desktop experience on a hybrid multi-cloud that also delivers actionable analytics and seamless management capabilities.

You can choose to use workspaces deployed of KASM's own cloud infra. Conversely, you could select the Self-Hosted Server version and install/manage workspaces on your own on-premise server/on a cloud provider of your choice.  

Seminal features of Citrix:

Varied security implementations that help you deal with unmanaged endpoints, and determine granular controls.
Layered analytics that tracks security and user behavior. Include automated policy controls that protect against security breaches and optimize app performance.
You can store your work on any cloud (Microsoft Azure, Google Cloud Platform, etc.) which will be directly manageable from your on-premise mechanisms.
Comes equipped with optimizations to help apps keep performing well even within low bandwidth conditions.
Leverage industry-best management protocols – accelerated logins, server scalability, app response times. Manage everything from a single solution.
Utilize Citrix's expert assistance with transitioning to cloud infrastructure with minimal hassle and immediate productivity.

Pricing
Deployment: Self-Hosted Server
Community Plan: Free
Professional Plan: $5/user/month
Enterprise Plan: $10/user/month

Citrix DaaS Standard: $10/month
Citrix DaaS Advanced Plus: $13/month
Citrix DaaS Premium: $20/month
Citrix DaaS Premium Plus: $23/month

Azure Virtual Desktop
Offered by Microsoft, Azure Virtual Desktop provides desktop and app virtualization over the cloud. It lets you set up multi-session Windows 10 or 11 deployments. Essentially, users can leverage a complete Windows desktop experience at an enterprise level. The number of desktops can be scaled up and down, as required, with relative ease.

Azure Virtual Desktop lets you present Microsoft 365 Apps for enterprise, and optimize it to work in multi-users virtual environments. You can import existing Remote Desktop Services (RDS) and Windows Server desktops and apps to any of these desktops. It's also easy to manage Azure virtual desktops and apps from Windows and Windows Server operating systems from a single console.

A few standout features:

Deploy virtualized desktops optimized for Windows 11 and Microsoft 365 virtually anywhere.


In-built intelligent security capabilities that keep applications secure and compliant, constantly monitor for threats and take appropriate action on detecting anomalies.


Deploy, manage and scale the number and state of virtual desktops within minutes. Scale the number based on your team/company's workload.


Reduce costs by using existing eligible Microsoft 365 or Windows per-user licenses within the virtual desktop environments.


Pay only for what you use. You can right-size virtual machines and shut them down when not in use. No dealing with upfront costs. Match operational expenses to actual business usage.


Access your Azure virtual desktop over the internet using any supported client – Windows, Mac, iOS, Android or HTML5.
Pricing
Pricing is quite flexible and depends entirely on what a customer wants bundled with their virtual desktops. Such an extensive pricing policy cannot be comprehensively represented in this article. If you're interested, it's best to scan through Azure Virtual Desktop's pricing page.
Suggested read 👇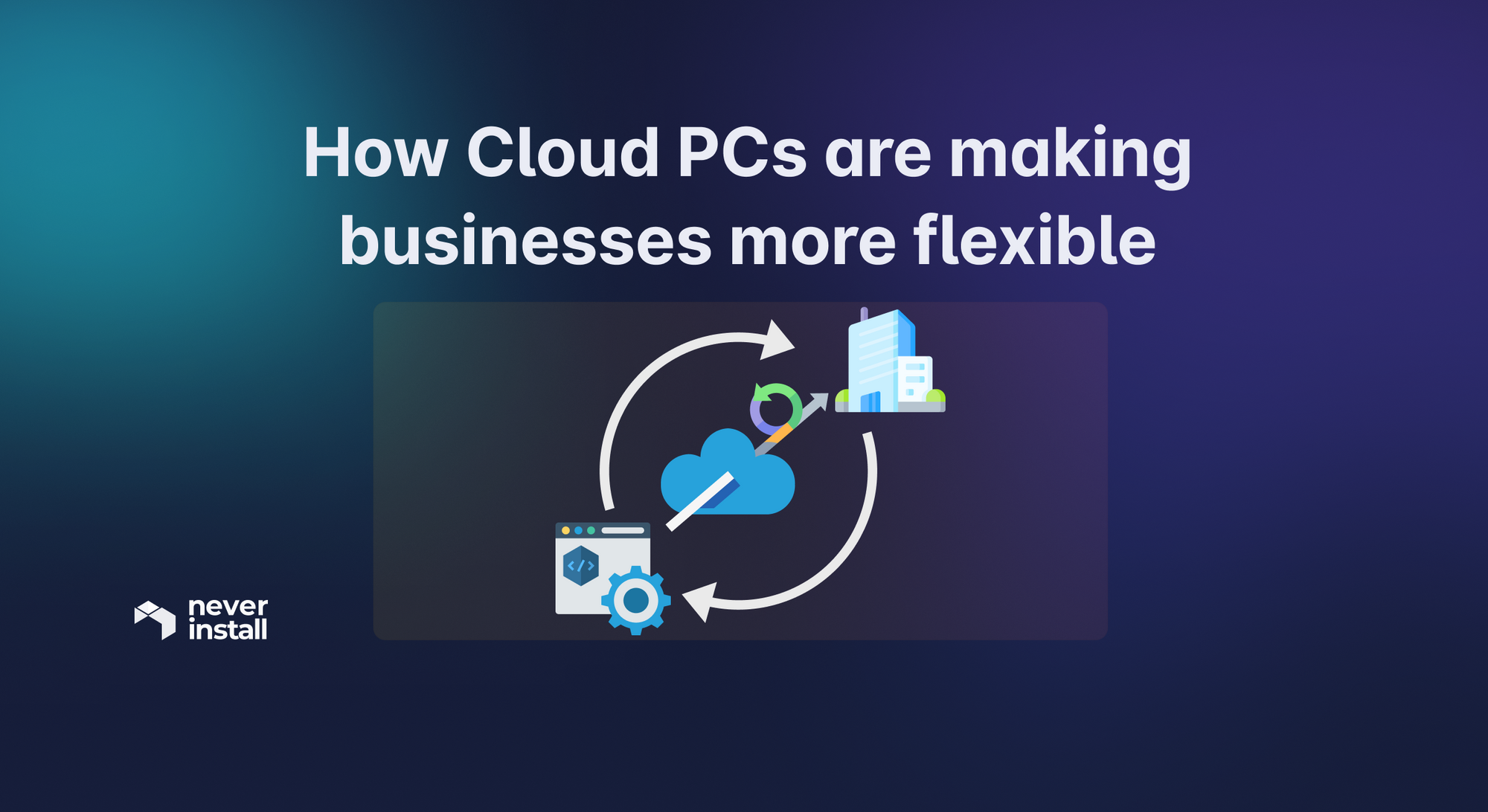 In Conclusion,
To raise productivity and efficiency levels to the breakneck pace you need to succeed in 2023 and beyond, you need to remove friction as much as possible. Employees/students/members shouldn't have to worry about anything except doing their designated tasks, upskilling, and getting better at what they do.

In particular, they shouldn't have to worry about dealing with slow tech and lack of access to the required industry-best tools. Not only does this slow them down and affect your bottom line, but it also raises the likelihood of shadow IT, which always exposes confidential corporate data to unauthorized exposure and theft.

Cloud desktops provide exactly the above, without mandating that companies spend money every few years to acquire powerful devices to match workloads (especially for devs and designers). DaaS solutions like the ones discussed above provide the best of both worlds – you get the best possible computing resources without breaking the bank on buying Macbooks every couple of years.

For example, you can use Neverinstall on a Chromebook (definitely not known for its internal processing capabilities) and use VSCode, Figma, and Obsidian with ease. No lag times, no unnecessary downloads.

Features like these don't just supercharge productivity, they enable companies to hire talent all over the world (no need to ship devices), save on update and maintenance (taken care of by the DaaS provider), and rest easy on the security of corporate data (if employees don't have download anything from the cloud desktop, they never keep the data on their personal device).

As work trends have shown since 2020, DaaS tools are no longer the outlier. In fact, they are on their way to becoming the norm, which is a no-brainer, given their comprehensive utility for remote teams. Why spend a financial war chest on setting up an office and on-premise infra if you can deliver a supercharged computing experience to your employees at home?
---
Author: Shreya Bose
Shreya is a seasoned tech writer. Apart from technology, she loves writing about healthcare, heavy metal, alcohol, and coffee. When she is not writing, she is reading, drinking tea, and waiting for naptime.
---
Subscribe
Join the newsletter to get the latest updates.
---
---